In may of 2013, I acquired the rolling shell of a 1991 Galant VR-4, number 1803 of 2000 built. It was summit white, without a sunroof, and with the fancy stereo equalizer option. Technically speaking, it is one of ~93 built with these options. If you aren't familiar with the Galant VR-4's, they were produced in 1991 (only 2000 of them), and in 1992 (only 1000.) They were all turbocharged 4 cylinder (4G63T) powered with manual transmissions, all wheel drive, 4 wheel disc antilock brakes, air conditioning, and 4 wheel steering. I have always liked these cars, and wanted one to daily drive for quite some time, but the right one never seemed to come along. Looking back, this one was not the right one either, but it is the one I decided to build. Back around the year 2001, this car was converted from left hand drive, to right hand drive. Due to the poor workmanship, and missing RHD parts, I decided that I was going to swap it back to the way it was – Left Hand Drive. This meant the firewall had to be cut out.
Before I go any further though, I should probably warn you that I obsess over small details that nobody cares about, so prepare yourself for that. Here we go…
May 2013:When this vehicle arrived, I wasn't sure whether to restore it, or turn it into a mad max style vehicle, this is what it looked like.
Now, when I buy unique/old cars, I love knowing their history, because it gives you a better idea of what you're getting into. With this car, I found many pictures on the internet from when other people owned it. From my research, I believe that it has not been driven since ~2001 when the RHD swap was performed. Since then, it has been all around the country, from Florida to Wisconsin, then to New York, and now in Massachusetts. This whole time, it has existed in various states of disrepair.
The owner before me did actually have an engine in it for a short time, and the whole build appeared promising. Sadly, he lost interest, and it became a rolling shell again. The following pictures were taken during the time that he owned it.
Before him, the Galant lived in New York (I believe). These pictures are from a for sale ad at the time. You'll notice it is very much a rolling shell, with tons and tons of missing parts.
Luckily for me, there are not many RHD Galant VR4's in the United States, so finding pictures of my car over the last decade was actually fairly easy. The oldest photos that I discovered were when the car was in Florida, likely in the early – mid 2000's, shortly after the RHD swap was done. Nice 3-spokes!
That brings us up to my ownership, beginning in May of 2013. After many internal battles, I decided that the best thing for this car would be to restore it back to its original beauty that it was in 1991. This was not a smart decision.
I began by purchasing a really rusty belize green Galant VR4 parts car. It was #1821 of 2000 built in 1991. Everything about this car was trash, but it had a LHD firewall, and that was the most important factor. The floors had holes in them, the rocker panels were completely missing, and the subframe that holds the engine didn't have any metal left. This is very typical of these cars when they have spent any time in New England, or Canada.. My white #1803 on the other hand is 98% rust free, which to me, made it worth rebuilding.
Here is "Crusty" Galant Vr4 #1821

This is what had fallen off of the car during part removal. Nothing else has contributed to this, and the pile is much bigger than it appears in the picture. You could lose a small dog in it.

This is an engine block heater that was hacked into the lower radiator hose. This, along with piles of Canadian currency makes me think that this car must have spent some time in Canada.

Here is something I didn't think of – LHD vs RHD Hood latches. Mirror image of one another.

The engine in this parts car was completely obliterated inside, and strangely full of cigarette butts.

After spending some time with #1803, I discovered that swapping this car back to LHD was the only way to get this car safely back onto the road. The previously done work to this car was scary to say the least.
They didn't swap the whole firewall, which meant even if I DID have a HVAC box for the car (which I didn't), it would never have worked. Instead of doing things properly, they poorly welded the HVAC inlet with a steel plate, and then covered it in seam sealer. Not good. As you can see, the whole area is already rusting on the INSIDE. Yikes.

Speaking of unsafe welds. This is the crash bar that the steering column and dash mount to. The part that you can't easily see isn't welded at all. Truly frightening workmanship.

They also cut the LHD brackets off the factory firewall, flipped them upside down, closed their eyes, and welded the brackets on the opposite side of the car. It was a bad scene.

Things needed to be cut out ASAP!

So I cut things out…

To do things right, I was forced to start from scratch and rebuild the firewall piece by little tiny piece. I began with the flanges at the bottom of the firewall, on the engine side.
Slow and steady wins the race, am I right?
TEST FIT. So far so good.
The top half of the firewall was fitted into place, and I need to do the bottom half next.
This is what it looked like as of 9:30 pm 3/27/14. You'll notice it looks identical to the last picture I showed you, except dustier. 😀
Now maybe you are saying to yourself, "Jeremy, that doesn't look like much work, why did it take so long?" Here is a small sampling of things that needed to happen. The "new" firewall was crustier than a bus station, and the firewall is two layers thick. It was also full of compound curves, so it is a complicated item to recreate and not have it look like amateur hour.
I then welded it all together, and made it pretty.
Test fitting the original cowl metal since it was still way too cold to POR-15.
Moved it outside so I could clean it off a bit.

Stripped the engine bay of stuff.

Fixed a hole that a previous owner hacked out for intercooler piping.

Painted the engine bay all pretty!
The left hand drive subframe I had was rotted beyond repair. So I modified the right hand drive subframe to to be left hand drive. This is how I did it. (LHD on top, RHD on the bottom)
I cut the Left Hand Drive subframe up.
I test fit the stuff on the RHD one after cutting big holes in it.
Then I fit the pieces in really nicely
Then I TIG welded the rascal all together.
Throughout this project I sandblasted and painted about 10 million oddball parts. It was pure misery, but it was the right thing to do.
Engine bay pic
Tada! Dash is bolted in.
Soon.
Next, I re-upholstered the headliner. It came out pretty nice, and the value of the car just went up at least $50.
I had the flywheel machined so that I could install the new clutch!
I glued the dash back together and it worked out better than I expected. It was basically separating like all mitsu dashed do around the defrost vent. Anyway – fixed now.
It was like 55 degrees in my garage during winter, and warm enough for me to attempt to glue the windshield in. So I did.
Here is my cam alignment on my mystery engine.
Rebuilding the cylinder head
Remove cams

Organize your stuff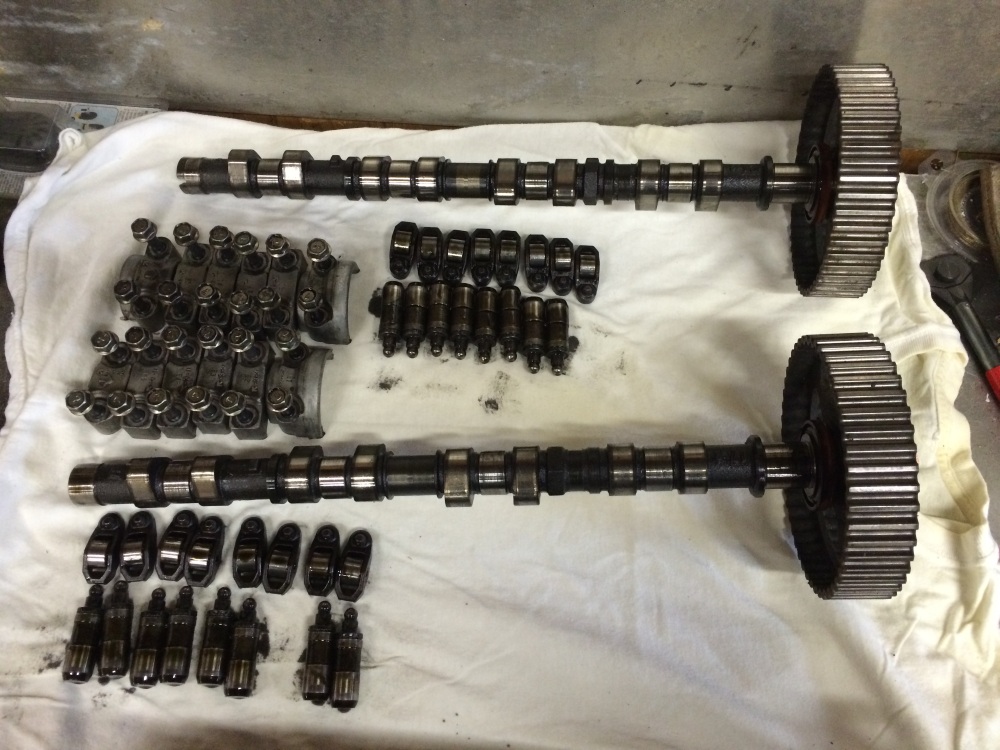 Tap the spring caps to loosen the keepers

Remove the keepers

Go to 5 Guys and eat a cheeseburger.

Look at the valves #1

Open #1

Look at the valves #2

Open #2

Look at the valves #3

Open #3

Look at the valves #4

Open #4

Before

After (same valve)

Cleaned, Lapped, Reinstalled.

New valve seals

Almost ready to reinstall!

Still need to torque everything.

The head went on, and the engine & transmission went in.
100% new fuel line from the tank to the engine.
Yep. Still going!
…and if anybody is curious, this is the difference between a galant vr4 and 1G dsm thermostat housing cap.
Sandblasted and painted. Stock MAF FTW.

Engine bay needs a good cleaning.

I even added the plastic air box duct. Oh and I made the intake pipes look new!
Front subframe connectors are different between the 1G eclipse/talon/laser, and the Galant VR4. That was unexpected…
Then I started fixing the trunk. (7/16/15)
Painted! Needs to be wet sanded and buffed now.

That green bumper has gotta go.

Then I painted the front bumper and metal valance piece that goes under the headlights, because it was haunting me.
Annnnd an engine bay picture to wrap things up.
Video Recap (Includes additional photos)